Get Climate Communication and Content Creation Experience with Deedster
Are you passionate about stopping climate change? Join the Deedster team in enabling the shift to a sustainable future! As an intern, you'll work with the team to create engaging content and communication for their climate action platform. You'll also have the opportunity to work on exciting client projects, tailoring content to meet their specific requirements. This is a golden opportunity to gain experience in climate communication and behavior change science – skills that will be in high demand as the world shifts towards a greener future.
About Deedster
Deedster is a digital platform for sustainable consumption. Through the app customers build employee engagement while having fun, and through smart integrations with financial services climate data can be used in innovative ways. Their team continues to grow and is characterized by an open, entrepreneurial and prestigeless culture where everyone contributes to make the planet a better place.
Visit their website to have a closer look at https://deedster.com/. '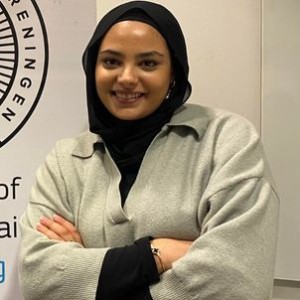 "- It was a memorable experience for me, giving me the opportunity to be part of a climate action team with inclusion at its core! I especially appreciated the close-knit relations between everyone in the group, as well as the great work they were doing together!"
- Mariam Ait Lhadj, intern at Deedster VT23
What will I learn during my internship?
Deedster is dedicated to creating engaging, accessible content that inspires positive change. The content team is skilled in developing effective communication strategies, such as climate actions, quizzes, and inspiring UX-copy for their app. Through your work as an intern, you will deepen your understanding of climate action, behavioral science, and sustainable lifestyles, and gain valuable insights into how Deedsters partners and clients foster interest and engagement in sustainability. Your internship will provide a unique and immersive learning experience that will help you develop new skills and insights to prepare you for a career in sustainability.
As an content intern at Deedster, you will have the opportunity to:
Hone your climate communication skills, learn more about engagement and behavior change and work with flexible and fun communication that enables change.
Work closely with the content team, who will provide excellent support and guidance throughout your journey.
Contribute to content creation and influence your tasks and assignments based on your unique competencies and interests.
As a content intern at Deedster you'll get to:
Write engaging and effective UX-copy for an app.
Research studies and articles on climate science and sustainability.
Create engaging content for a wider audience that generates engagement and inspires for a more sustainable future.
Incorporate creative writing and pedagogical examples to make the information more accessible and understandable to users.
Generate and explore new ideas to design fresh and exciting content.
Requirements
We are convinced that a broad skill set is needed to create a more sustainable tomorrow. Bring us your personal experience, your perspectives, and your background. For this position we are looking for someone who has:
Ongoing academic studies within communications, environmental communication, journalism, media, rhetoric, pedagogy, digital production or equivalent.
An ease of writing and good communication skills in English, Swedish is not required.
Previous experience in creating engaging content and copy is meritorious.
As a person, you have good cooperation skills, you are structured and performance-oriented in your work.
Additional information
Internship period: Autumn 2023, 20 weeks (30 credits)
Location: Stockholm, Rosenlundsgatan 31. Hybrid work arrangement, with 3 days in the office and 2 days remote.
Type of contract: This is an unpaid internship and therefore has to be a part of an internship course within your studies.
Mentoring: You will work closely with the content team and a dedicated mentor, but also collaborate with great people from both the Client Success and Delivery team, UX-designers and the product and development team.
Apply
Your application has been successfully submitted.